Model Home - Tradition
Model Home Location:
Martinsville, VA
This model home is on display at our Martinsville, VA Sales Center.
Pricing shown is based on area served by the Sales Center location where model home is displayed. Pricing varies by Sales Center due to variations in state & local build specifications/requirements, labor costs, transportation costs, taxes, and what is included in price.
This model is no longer on display, but is available for order.
PRICING
Approx. Square Feet
Base Price
Price w/ Options Shown

TOTAL

2,540
​​$ 200,870
$ 79.08 / Sq.Ft.

$ 279,933


$ 110.21/ Sq.Ft.
Gallery
Make sure to compare apples to apples. Not all builders include all this in the price.
Concrete Footer & Block Foundation: 48" average height
Normal delivery of home to site

Crane Set of home on foundation (up to 90 Ton crane included in price)
Exterior Finish Work: shingles, siding, trim
Interior Finish Work: drywall, flooring, trim
Water & Drain Plumbing connections under home
HVAC (electric heat pump and furnace) or self contained heat pump depending on model
Electric Water Heater
Electrical meter base and connections. Mast kit is not included.
Dishwasher & Range Hood
Seamless Gutters with downspouts & splash blocks
Final Grade and Backfill around home
VA Sales Tax
Warranty: 1 Year Service; 10 year Major Structural Defects
Note: What is Included/Not Included varies by Sales Center due to Local/Regional requirements.
Items listed below are not included in the price, but many can be added for additional fees.
Site Prep: clearing and grading
Building Permits
Paint - our homes come with primer on walls and ceilings
Furniture
Décor
Decks/Porches (some models include porches)
Landscaping
Driveways
Utility connections (electric, water, sewer, gas, tv, phone)
We will connect water and sewer lines to the home. Customer responsible for getting water & sewer to the home.
Note: What is Included/Not Included varies by Sales Center due to Local/Regional requirements.
Check out another Model Home - Model Homes @ Martinsville, VA
Homestead V
Tradition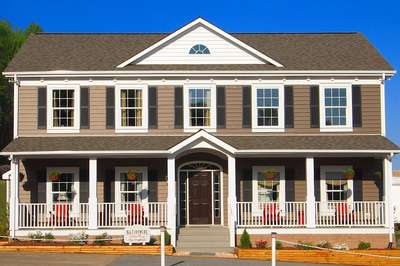 I want to learn more about the Tradition