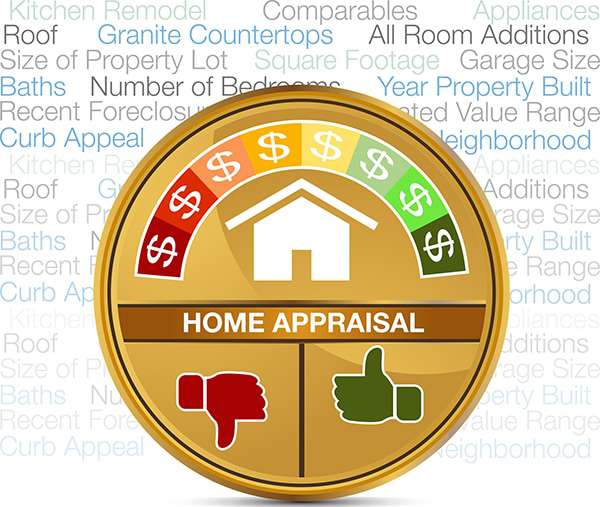 Every homeowner wants to ensure they're making a sound investment when building a new home. After all, our home is the biggest investment most of us will ever make!
As you talk with various builders, lenders, or realtors you'll hear the words "appraisal value" come up time and again. So what does it all mean, and how do you go about building a home with a "good appraisal value"? Here we'll explain the appraisal process along with identifying some key factors and considerations. By the time you're finished reading, you'll be an appraisal expert and ready to build smarter and easier!
What is an appraisal and how does it work?
As part of the lending process, your lender will want to do an appraisal of the proposed home you are building. This is to ensure the home has similar value to recently sold homes in your area because the lender is also invested in your home. The lender needs to know they could resell the home if something went wrong. The lender hires an independent appraiser to review the floor plan and specs, look at similar homes sold recently near your location, and assign a value to the proposed home. This value will determine what the lender is willing to lend for the home on your property.
Lenders vary on the amount they will loan you based on the appraised value. This is called the loan to value (LTV). Some lenders offer 80% LTV, many are 90%, and a few are even higher. The LTV is an important number to know before selecting your lender. For example, an appraised value of $200,000 with a lender that offers 90% LTV means they will lend you up to $180,000 versus one with 80% LTV would lend you just $160,000. That's a huge difference!
Ok, so the home should appraise for what it cost to build, right!?
Not quite, and here's where it can get tricky. Appraisal value is a result of recently sold homes with similar size land and homes in your immediate area. This means if you want to build a $200,000 home in an area where similar homes only sell for $100,000, you may have a hard time getting an appraisal to work.
Another consideration is optional features on the home. An appraiser will assign dollar for dollar value on many items in the home, but on others you may get a fraction of what they cost to buy or build. Remember, the lender is making an investment too and will take steps to guard against any losses. An expensive lighting package may be a must have for you, but it will not add any value to an appraisal. Here are a few examples of items that typically do not receive an appraisal value equal to what they cost to build or even buy materials:
Porches
Garages
Upgraded Flooring, Lighting, Countertops
Upgraded Trim Packages
Upgraded Appliances
Great, so you're telling me I can't get all the nice things I want in my home?
Not at all! Doing a little research and taking some simple steps will allow you to build your dream home. Let's look at some guidelines for building your new home free of appraisal issues.
1) Choose a builder that understands the appraisal process and is willing to walk you thru it. Builders should be able to provide the lender with an appraisal packet that includes license information, detailed specs of the home, contract details, added features, and certifications for the home. The builder should also be able to speak intelligently with you on options and how they will affect the appraisal value of the home. Specifically, which options are likely to add value to your appraisal and which options will likely be assigned little or no appraisal value. Make sure you choose a builder that will allow you to make changes to your contract if there is an issue with the appraisal value.
2) Ask your lender about their appraisal process. You'll want to know how they choose appraisers in your area, and if an issue arises how it will be handled. Lenders who finance their own construction loans are much more likely to be proactive in helping you through the process and addressing any issues. Brokers, who are not financing the loan themselves, have little incentive to give your loan process the attention it may need.
Your lender should also be familiar with your builder and vice versa. Builders typically have a list of preferred lenders with whom they have an established relationship. It is very important that the lender and builder are able to work together on your behalf.
3) Research the area in which you are building your new home. Look for recently sold homes with roughly the same finished square footage as your proposed floor plan. Make sure the recent sales are in the same price range you will be budgeting for your home.
4) Keep in mind that if you want optional features that have little appraisal value such as porches, upgraded trim, or a garage, you may need a cash down payment on your loan. If you own your property, you may be able to use the equity in your land as this down payment.
5) Prioritize your optional features. What do you have to have in your home now, and what can be changed a few years down the road? Many options like upgraded counters or flooring can be added to your home later. Focus on options that cannot be changed later such as taller ceilings, roof pitch, and structural components.
The appraisal process is an often misunderstood component of the new home construction process. Don't let misinformation stand in the way of building your new dream home. Following these simple guidelines will empower you to make a smart investment while building the home you've always wanted. Let's get started!
By Adam Peterson, General Manager, Silverpoint Homes of Greensboro, NC.
|