You're thinking about investing in a new home. As the biggest investment you'll ever make, you want that home to have some custom details that set your home apart. The problem is every home you see looks the same. Over and over you see the same generic features and bland style. How do you put your own signature on a new home and inject it with some style and flair? There are many exciting new features in new home construction and not all of them cost a fortune. Let's focus on some details and features you can add to your home without breaking the budget!
Interior Features: *Taller Ceilings – Most homes will come with 8' ceilings. While there's certainly nothing wrong with an 8' ceiling, you will be amazed at the difference taller ceilings can make in your home. A 9' ceiling gives an open and airy feel to your home and makes any space look larger. Decorating the home becomes easier as you'll be able to utilize more furniture and décor options. A higher ceiling will also allow you to use taller cabinetry, which will give the home more storage. Details like crown molding and trey ceilings look much more impressive with a taller ceiling height.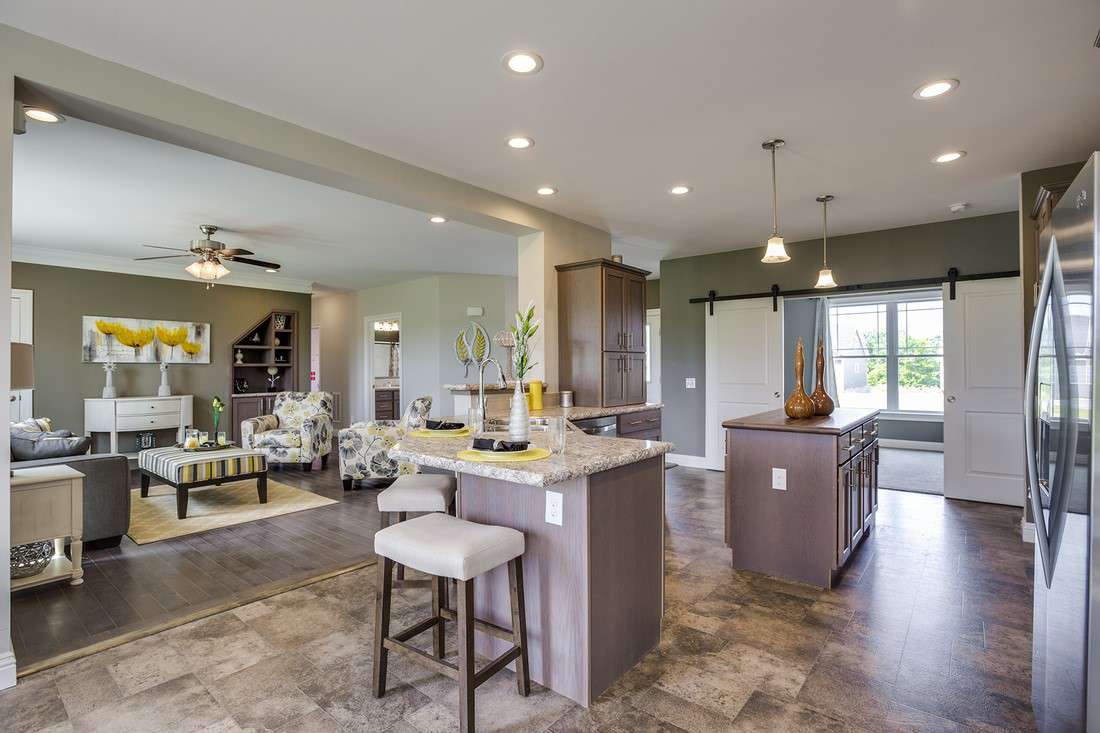 (9' Ceiling Height)
*Transom Windows – Transom windows are those small windows that are installed above your standard windows. The purpose of these windows is to give your home more natural light, but they also add some design detail. Transoms do not have to be installed on every window. A few well placed transom windows will add to the exterior and interior detail of any home.
*Window Variations – Almost every home you see has square white windows with white trim and a standard grid pattern. While white is beautiful and timeless, you may want to give your home some added flair. Most window manufacturers will make windows in other colors such as tan for a relatively low upgrade fee. This is guaranteed to give your home a different look from your neighbors. You can also order different grid patterns for your windows. You can also utilize different shape windows such as elliptical or "circle top" windows.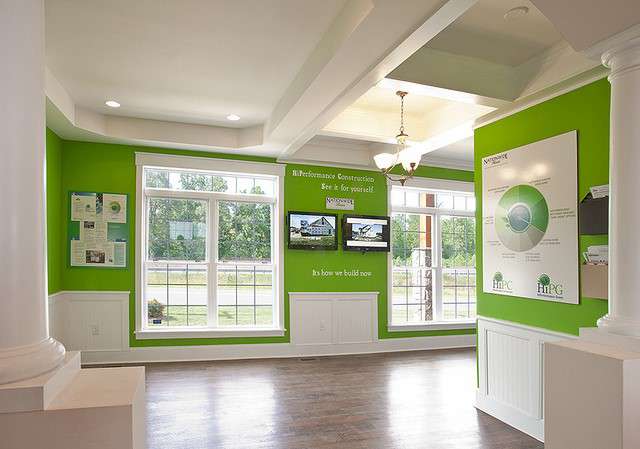 (Transom, Decorative Ceiling Options, Columns)
*Wide Window Sills – This adds some architectural detail to the interior of the home and also gives you some freedom to decorate your home in different ways. Want to set those candles in the windows at Christmas or maybe a potted plant in the summer? Wide window sills gives you that option to add those seasonal touches when decorating your home.
*Molding – Pay careful attention to the molding in your home. Most new homes come with small 2 ¼" Window and Door Casing and 3 ¼" Base Molding. Enlarging the size of these moldings will make a huge difference in the detail of your home. You can also choose a completely different trim package that reflects your personal style. Crown Molding adds detail to any space and is relatively inexpensive. Adding a taller crown molding to kitchen cabinetry is a great way to add an elegant touch. Decorative ceilings such as trey or coffered can be added to give a room that "wow" factor.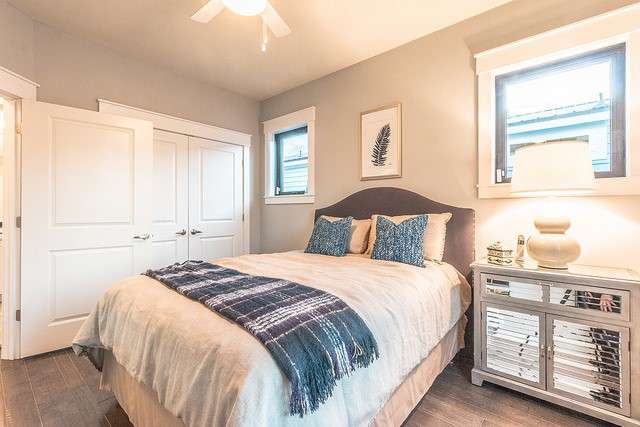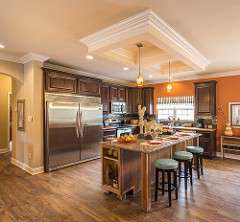 (Coastal Trim Package) (Crown Molding, Decorative Ceiling)
*Decorative Columns – Open floor plans are enormously popular, but sometimes this style can leave certain spaces looking undefined. Decorative Columns will preserve the open feel of your home, while separating the rooms.
*Barn Doors – These are enormously popular because they add an element of versatility to your home. Want to close off the living room while the kids watch a movie? Does Dad get a little loud when watching his favorite team? Barn doors allow you to close off a space when necessary, but still have the flexibility of an open floor plan. These doors come in a variety of beautiful styles and colors.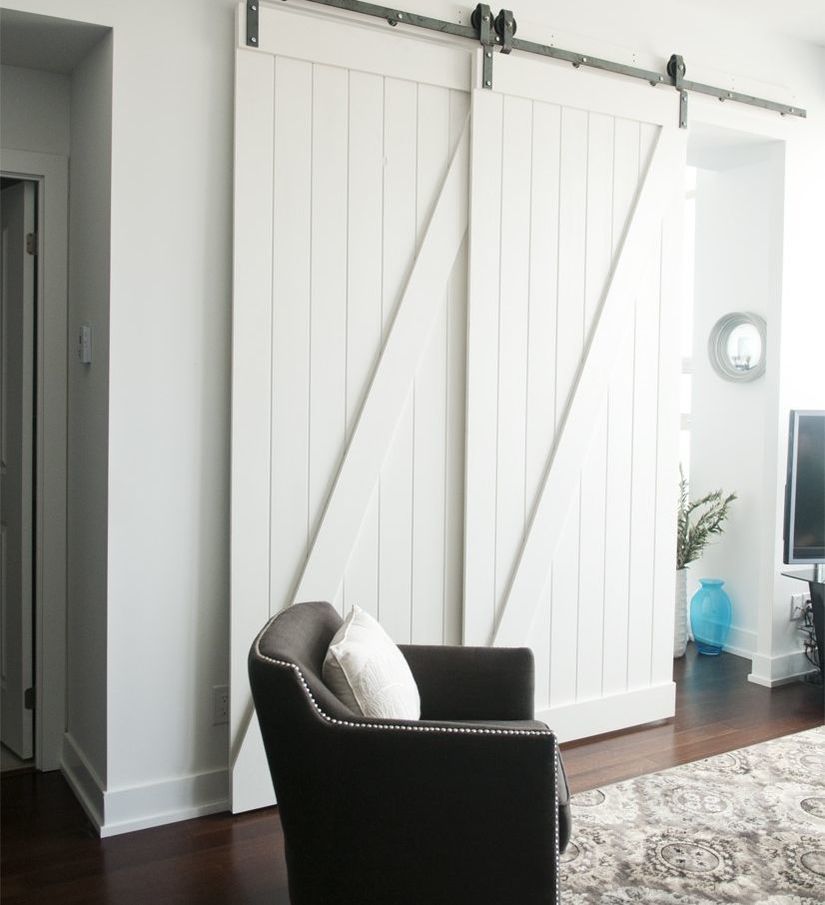 Barn Doors
*Fireplaces – We all know it's nice to sit by a fire on a cold winter evening, but fireplaces can also serve an important design function. Fireplaces can come with a variety of different surrounds that allow you to personalize the home with your style. Whether you like a rustic stone or a sleek tile design, the fireplace is an area where you can add a personal touch. Gas fireplaces tend to be much less expensive than wood burning.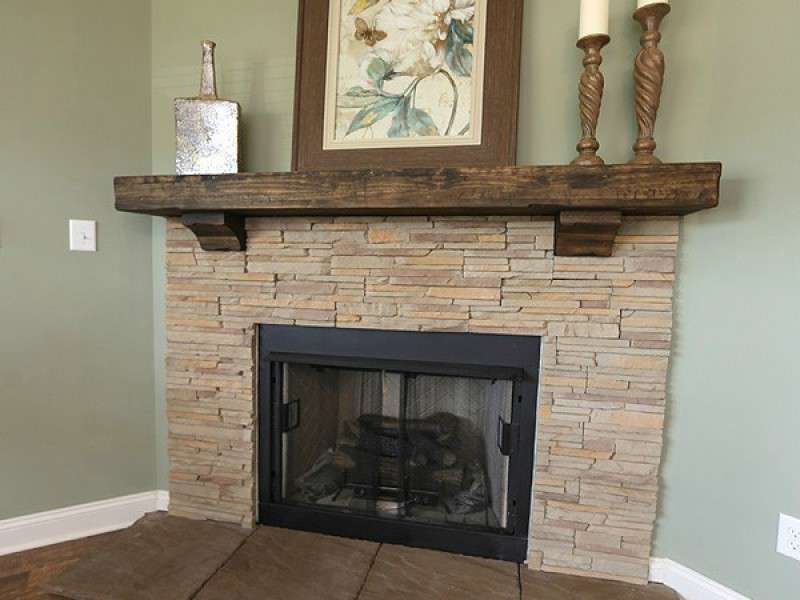 (Gas Fireplace with Stone Surround and Wood Mantel)
*Lighting and Bath Fixtures – Seen enough of chrome? Most homes come standard with chrome bath and lighting fixtures. Fixtures are available in a variety of finishes such as satin nickel and oil rubbed bronze. Even the hinges and hardware on doors can be changed. These are small details that greatly contribute to the finished look of a new home.
*Backsplash – Backsplash is the area above the cabinets in your kitchen or bathrooms. Adding a tile backsplash in these areas is an opportunity to add some color and style to the room. Tile comes in a multitude of styles and colors so you're sure to find something that matches your taste. Backsplashes can also be added around platform tubs to really give your master bath a custom feel.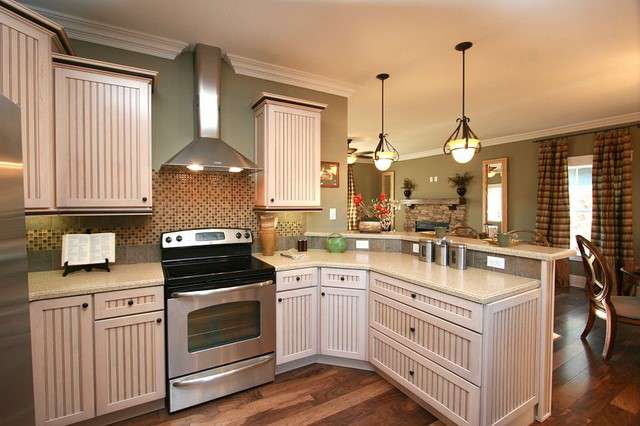 (Taller Cabinet Molding, Crown Molding, Tile Backsplash, Bronze Fixtures)
*Interior Doors – Most new homes will include standard six panel interior doors. Interior doors are available in a variety of panel configurations as well as the popular cottage style.
Your home needs to be special. After all, this is the place where your family will make countless memories. The smallest of details will have an enormous impact on the look and feel of your new home. You shouldn't have to break the budget to get the style and finishes that set your home apart.
Silverpoint Home Consultants have are experienced in suggesting the details and touches that turn a house into a home. They will work with you to get the floor plan and finished you want in the budget you need. Our home consultants are trained to guide, not sell, you through the design process. Our goal is to create the home you desire in an affordable budget. That's why Silverpoint Homes is able to offer the best value homes on the market today! Let's get started designing your new home!
|