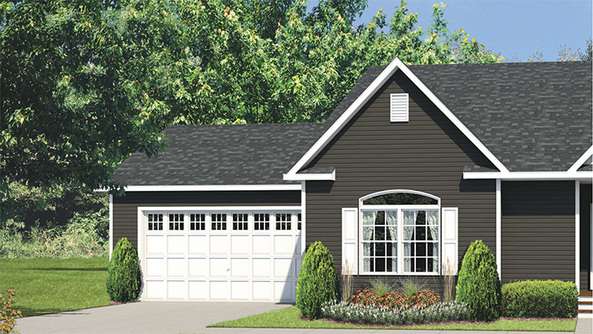 Silverpoint Homes has recently been profiled in a national magazine, Modern Design+Build. Below is a reprint of the article:
Working in the modular home business, the team members at Silverpoint Homes are prepared to educate potential homebuyers on the advantages of modular homes over stick-built homes: reduced cost and construction time, the benefits of a factory environment on materials and quality control, and a much more convenient buying and building process.
Often, all it takes is a look at the quality –and the extent of custom options – at one of the company's two model home centers.
"We spend a lot of time on education as there are many misconceptions about modular homes," General Manager Mark Stover says. "But once someone tours our model homes, those disappear."
Set up to resemble a subdivision, Silverpoint Homes displays eight model homes, ranging from 1,400 to over 3,300 square feet. Those are set on full foundations, just like a customer's home would be, and showcase the variety of styles available.
Many are custom designed based on customer input, and all models are furnished and decorated. Paying close attention to those visual and tangible measures of value, but also staying true to providing quality "bones" – as Stover calls it – has helped the family-owned and operated company grow at a controlled pace. In fact, Silverpoint Homes eventually acquired another location.
The Beaver, West Virginia-based company, which began selling modular homes in 1999 and now sells around 30 homes a year, acquired Key Properties in Lincolnton, North Carolina, in 2014, expanding its vision to offer the "best value per square foot" to another region.
That meant more customers to reach with the company's goal to provide quality homes, part of its philosophy since Silverpoint Homes was founded in 1997.
The company began primarily as a manufactured home dealer, offering high-quality, "Amish-built" homes with higher build specifications than competitors. Though the company has evolved over the years to now exclusively offering modular homes, those quality build specifications have remained.
That also distinguishes Silverpoint from other builders who have launched "value series" products with lower build specifications that many consumers often cannot see. Tools like Silverpoint's "apples to apples" comparison sheet, which lines up its quality measures side by side with the competition's, show customers the differences between a typical Silverpoint Home and those of lower value. Details like name-brand windows and fixtures over generic or plastic ones, as well as structural differences such as 2-by-6-inch exterior walls instead of 2-by-4-inch or floor joists on 16-inch centers instead of 20- or 24-inch.
"Our homes are beautiful, but they also have good bones," Stover says. "There are some builders selling what we call 'lipstick on a pig.' We're not that. Our homes are beautiful, high quality and going to last for a long time."
Aside from building a better product than its competitors, Stover says the company has worked to build a better process for homebuyers. "We used to think that price and time were the big differentiators about modular homes," Stover says. "Now, I'm a firm believer that it's convenience. Site-building a home can be very challenging and very stressful. Our objective is to reduce this stress with a better process."
In addition to implementing a no-haggle pricing strategy in 2010 – where the company posts pricing online and in brochures so all customers receive the same deal – sales teams work hard upfront to avoid forcing homeowners to rush decisions on their investment and to avoid costly changes at the job site.
"We try to avoid surprises by using the documentation we have: detailed build specifications, option review checklists, and even a guide to review our responsibilities versus customer responsibilities." he says. "A good example of a bad surprise is change orders.
We really strive to avoid them. We try to go through every possibility upfront with the customer. That's an important part of providing convenience, guiding homebuyers through the entire process."
Details in literature – including advice on common mistakes from homeowners who went elsewhere – help provide a knowledgeable and ultimately more satisfied homebuyer. The top mistake, according to the research, is failing to identify and understand the budget for the whole project, followed by excessive change orders.
"We want to be very upfront about what we do and don't do, what's included and what's not," Stover says. "There are a lot of little things that make a house a home and make the difference between quality and a house that just looks good."
Those steps will remain part of the company as it expands farther south. Though the company found a viable opportunity in Key Properties, Silverpoint's aim always has been quality and customer service over quantity. And custom modular homes will continue to be the company's niche, Stover says.
"We're going to be focused on modular homes," he says. "We're not trying to do all things for everyone. We want to focus on what we do and do it exceptionally well."
Serving a population recently facing economic challenges from the decline of the coal industry in West Virginia, Silverpoint Homes of North Carolina has what may become a more promising market. Even then, it will take careful steps, ensuring that the overall vision doesn't change.
"Growth is good, but you always want to maintain your personal touch," Stover says.
For more information on modular homes, contact Silverpoint Homes.
Modern Design + Build Magazine
|