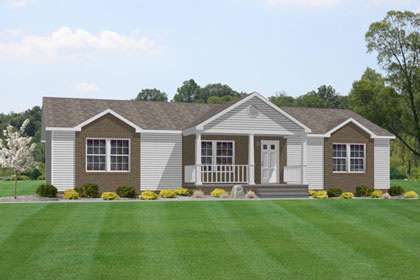 When planning to build a new home, most people have a mental picture of their perfect house. If you think that a two-story home is the perfect fit for your personal preferences and specific needs, you may want to think again. Consider taking a look at the advantages of single story ranch style modular homes in Lewisburg, WV.
There are a number of positive aspects to owning a single-story home. Custom-building the Freeport ranch style modular home is a great choice for a new home because it is a beautiful and functional home. It's no wonder this modular ranch style home is known as an ideal ranch especially for first-time home buyers. This single story modular floor plan allows you to fully utilize the available 1,544 square feet of living space. In addition to being able to maximize space, this single story home is energy efficient in both heating and cooling. Having lower energy costs means that more money stays in your pocket. Not only will you save on the expenses in custom-building a modular home but you will also save money on your monthly bills once you are living in it.
A great advantage of The Freeport ranch style floor plan is the better flow with easier access to every part of the house with single story living. When a home has a staircase, there is a loss of usable space. They also occupy more space when they are longer or wider than traditional or when they are curved.
To find out more about the single story Freeport ranch modular home, contact the Silverpoint Homes.
|