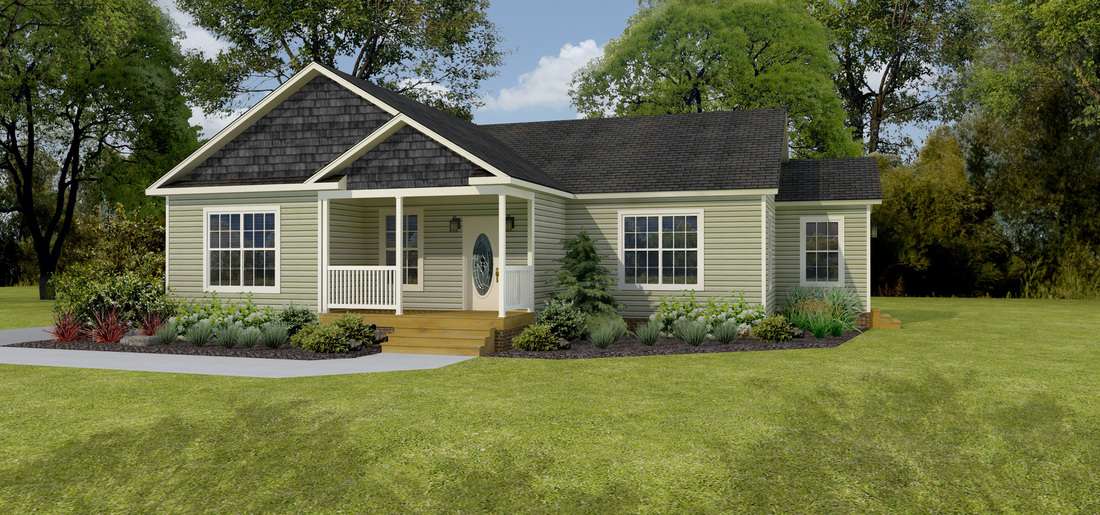 The Carolina Ranch is the latest home model you can find at Silverpoint Homes. This ranch style floor plan is the epitome of how modular home construction in Lincolnton, NC has evolved over time, catering to homeowners with varied needs and preferences.
This Carolina Ranch style modular home has 3 bedrooms and 2 bathrooms. The master bedroom has a dedicated master bath, while the 2 smaller bedrooms have a common bathroom that can also be accessed through the living room, kitchen, or dining area.
This one-story modular floor plan is a T-ranch. This means porch, bedrooms, baths, kitchen space, dining area, and living room are arranged in the form of the letter T. At 1,713 sq. ft., this ranch has a high ceiling for the option of adding a ceiling fan in the living room to accentuate this area of the home.
Because this Carolina floor plan is so spacious, 42" custom Hickory cabinets with deluxe crown molding and full ceramic backsplash can also be added in the kitchen. Cultured marble vanities in both bathrooms can make these two rooms pop as well.
To find out more about The Carolina Ranch style home and other modular floor plans, contact Silverpoint Homes.
|