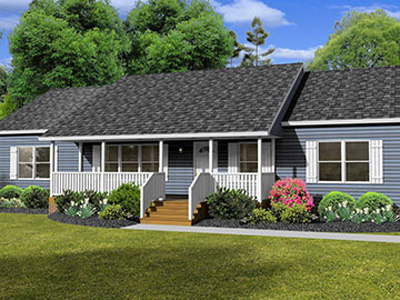 While most ranch style homes are traditional and sport traditional floor plans; ranches have also evolved to fit today's lifestyle. An example of this evolution is the Mitchell Max Ranch, a style of modular home in Lincolnton, NC.
The Mitchell Max ranch style modular floor plan has a 1640 sq. ft. floor area that makes use of both modern architectural trends and the more humble elements of a ranch style home. For one, the Mitchell Max stays true to the long, low layout. It also sports of a classic porch and traditional saddle roof, both add character to the exterior of the home.
Adding a modern twist, this ranch style home makes use of modern and state-of-the-art modular home construction. Modular construction is taking the home construction industry by storm. But the real twist is in this modular floor plan itself—shifting from the traditional compartmentalized areas of a traditional ranch to an open concept floor plan. This maximizes space and offers a great flow from room to room. In the Mitchell Max ranch style modular home, the kitchen, dining, and living room flow together with no partitions, creating the look and feel of a much larger space inside. All the other elements of the home are positioned at the edge of the layout—the master's bedroom with walk in closet and large bathroom is on one side while the two other bedrooms, the common bathroom, and utility room are at the other side.
The Mitchell Max ranch style modular home combines traditional architectural elements with modern design to create a beautiful home. To find out more about this modular floor plan, contact Silverpoint Homes.
|