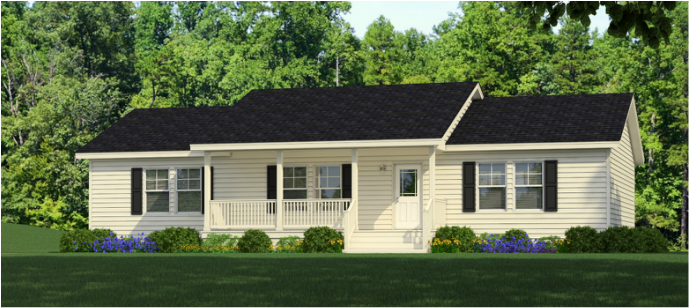 Modular home construction does not stop with offering interested homebuyers a more convenient and quicker solution to traditional home building. It also offers a wide array of options for customization so that you can have a dream home to call your own with defining features and fixtures that are tailor-fitted to your personal preferences and requirements.
When you choose The Noble Ranch style modular home, you are able to customize this floor plan so that the available 1,456 total square feet is maximized to bring your single-story living experience to a whole new level. This special value ranch allows you to modify the standard build specifications to your liking. It has a saddle roof and porch, but you can always change this design feature to further accent to your home's exterior. And the same flexibility in design goes into the interior of this modular ranch as well.
The Noble Ranch style modular homes in Beckley, WV offer an indoor space that is not only stylish but also comfortable. Every part of this home is strategically located to optimize the space. It is a very easy home to decorate and to move around in. The Noble Ranch has two smaller bedrooms. Each has their own walk-in closet and share a common bathroom. In the other wing of the home, you will find a larger master bedroom with a walk-in closet and a luxury master bath with a soaker tub and 60" shower. Also on the main floor, a great room occupies the center of the house separating the master bedroom from the two smaller bedrooms. The great room opens to the kitchen and dining combo, which proves to be very convenient for entertaining and relaxing.
To find out more about The Noble Ranch modular floor plan, contact Silverpoint Homes.
|