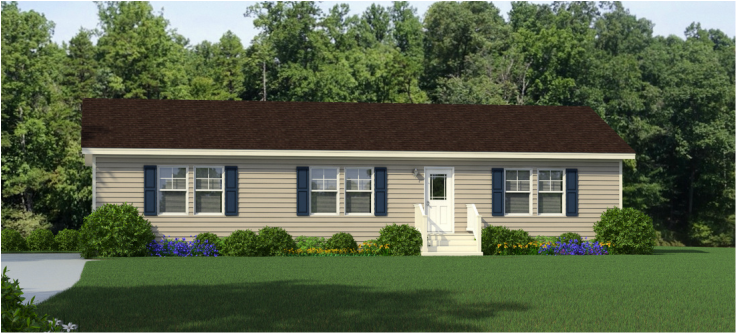 Ranch style homes are best known for their one-story structure, but The Noble Modular Home is a special value ranch that takes single story living to a whole new level. With this new modular floor plan, you will have every home feature that is important to you and your family. Your new modular home will be strategically designed with the features and fixtures that ensure an extraordinary experience.
The Noble Ranch style modular home has a floor plan that stretches to a total of 1,456 square feet. You can choose to have a standard roof instead of a saddle roof, plus front porch if you so desire. With this modular home floor plan, a great room between the bedrooms is another spacious luxury. Both of the two smaller bedrooms have walk-in closets and share a separate bathroom. Additionally, the master bedroom has a walk-in closet which is relatively larger. Right behind the closet is a luxury master bath with a soaker tub and a 60" shower. The living room is adjacent to the dining area and kitchen space which has a kitchen island bar with gooseneck faucet and 2 stem lights. This single story living space is strategically designed to make every room of the house easy to access.
To find out more about the standard build specifications of The Noble modular home and why it has been hailed as a special value ranch, visit Silverpoint Homes.
|