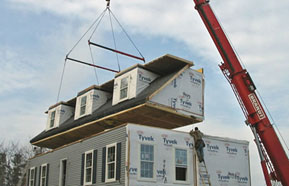 A modular home is a house that is built of pre-fabricated sections referred to as modules. They are constructed away from a build site, transported to the site and fitted together. This type of prefabricated housing has become increasingly popular with newer technologies and a housing market that is seemingly constantly low in supply. New technologies have allowed these builds to become practically fully customizable and they generally can be built in less time than typical stick-built houses.
It is important to note; modular homes are not the same as manufactured homes or trailers. Modular homes are built to the same codes as site-built homes, and in most cases actually undergo a much more vigorous inspection process.
Got It. So, why build a Modular Home?
Modular builds afford homebuyers many benefits, in fact the modular housing industry is growing faster than any type of new-home construction. There are many reasons, for this, a few of which we have highlighted below:
Affordability - you can generally expect to spend ten to twenty percent less on a modular build
Quality – modular builds frequently have up to 30 percent more lumber, are built in a controlled environment and are unexposed to weather and outside elements
Time – modular builds, generally speaking, take months off of a build's timeline
Less Stress – modular builds allow for a streamlined process that will not only save you money and time but possibly your marriage and assuredly your nerves
Ok, ok, but you sell them. Back it up.
The following organizations have acknowledged the advantages of the modular construction process:
National Institute of Standards and Technology
National Research Council
Environmental Protection Agency
American Institute of Architects
S. Green Building Council
S. Department of Veterans Affairs
S. Army Corps of Engineers (1.)
Not Sold Yet?
This article just scrapes the surface of modular construction and our work at Silverpoint Homes. If you want more information please visit our website at www.silverpointhomes.com.
Or even better come visit one of our Model Home & Design Centers.
"Improving Construction Efficiency & Productivity with Modular Construction." Modular Building Institute. 2010.
|