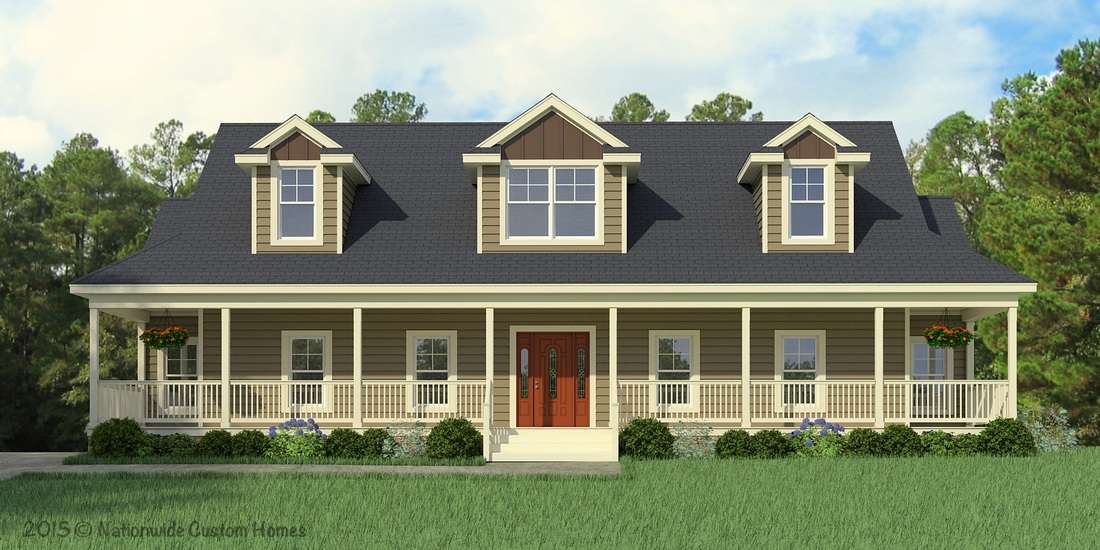 With the help of modular home construction, Silverpoint Homes has mastered the art of building conventional homes with a contemporary twist. Our homes are more appealing and appropriate for today's living. For instance, the Cape Cod style home has been around since the 17th Century and originated in New England. We offer this style home with amazing features that offer an improved and conducive home living experience.
If you are one of the many interested home buyers looking for a classic wrapped porch Cape style home that has been updated to make it more aesthetically pleasing, then the Greenbrier Cape Cod style modular home is a great bet. This 3,325 sq. ft. floor plan has a 450 sq. ft. wrap-around porch. Just like the traditional Cape Cod homes, the Greenbrier has a moderately steep pitched roof with end gables that accent the exterior and complement the wrap-around porch. The Greenbrier Cape Cod style modular home has defining characteristics of a traditional Cape, and will stand out in the neighborhood because of the exterior elements of the house.
The Greenbrier Cape Cod style modular floor plan is beautiful inside out. In the interior, you will find strategically placed bedrooms. The largest bedroom is separated from the other two smaller bedrooms by a large living room which opens to the kitchen and dining space. It is clear that the interior has been optimized for spacious living. There are also features incorporated that make this house energy-efficient. Larger windows are used for natural light and fresh air allowing homeowners to save on energy.
To find out more about the Greenbrier Cape Cod style modular home floor plan, contact Silverpoint Homes.
|