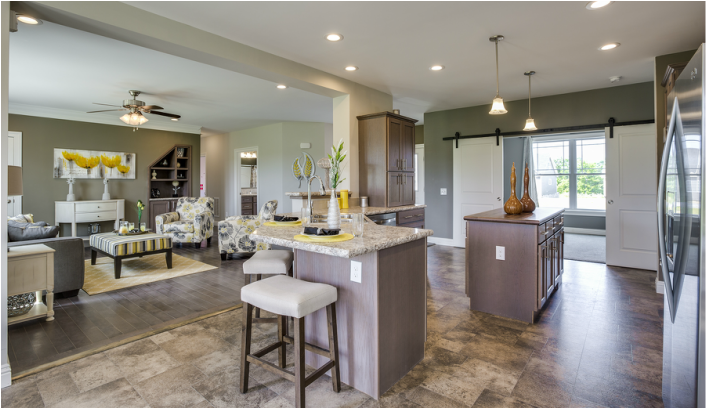 The best part of modular home construction is the flexibility it gives to interested homeowners when building a home. For instance, the Lewisburg modular ranch style floor plan can be built as is, or modified to meet specific needs. This ranch style home is a 1,925 square foot floor plan that provides enough space to incorporate personal preferences and style.
The Lewisburg ranch-style modular floor plan is the latest to be custom-designed by Silverpoint Homes and New Era. It has tremendous curb appearance and an open floor plan. The most enticing design statement in this ranch is its panoramic view from the breakfast nook which protrudes off the rear. The Lewisburg ranch also has an offset front elevation giving it unique exterior style for a ranch home.
This modular home in Lewisburg, WV has additional options as well including hardwood floors, 8'8" ceilings, and barn doors. A freestanding soaker tub and many other features are also available to bring this single story home living experience to higher ground.
To find out more about residential modular home construction, contact Silverpoint Homes.
|