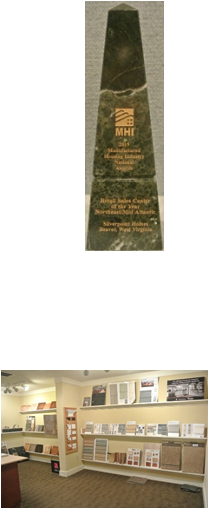 At the 2015 Manufactured Housing Institute (MHI) National Congress & Expo, Silverpoint Homes was awarded the National Retail Sales Center of the Year. This is considered the highest award for a retail sales center in the manufactured and modular home industry.
This award is not simply based on achieving a certain sales number or dollar level that you will often see on a plaque in other retail sales centers. The MHI Retail Sales Center of the Year award is based upon several all-encompassing criteria: management philosophy, retail center aesthetics, sales performance, marketing, and customer service.
Management Philosophy
Silverpoint Homes has always believed in offering a quality built modular home at a reasonable price. Hence, the marketing theme of "Best Value per Square Foot." Our initial product offering was high quality, "Amish-built" manufactured homes with higher build specifications. We have evolved over the years to now, exclusively offering off-frame modular homes with high quality build specifications.
Retail Center Aesthetics
Silverpoint Homes displays all of our model modular homes in a community like setting on actual block foundations to show our customers what the home would really look like on their land. We also furnish and decorate our model homes to give a true feel for how it all looks and flows. Our Sales Center includes a 500 square foot design center to showcase the variety of options available to customize homes.
Sales Performance
Silverpoint Homes is the leading dealer of custom modular homes in West Virginia. Even compared to site home builders, we are a leading home builder in southern West Virginia counties of Raleigh, Fayette, Greenbrier, Summers, and Mercer. We have one of the largest modular home displays on the entire east coast with 8 model homes on display.
Marketing
Silverpoint Homes maintains a consistent marketing message of "Best Value per Square Foot." We are confident that our modular homes are built better at a better price. Not only are our homes beautiful, they are built to last.
Customer Service
Silverpoint Homes always strives for excellence and works hard to not require a return trip to our customers' homes to fix problems. But when something does go wrong, we take care of it. Our modular homes include a one year service and workmanship warranty and a 10 year foundation to rafters major structural defects warranty.
Silverpoint Homes is extremely proud to have received this national honor and we invite you to visit our Sales Center near Beckley, WV to see the difference in our homes and understand why we were chosen for this award.
Contact us for more information on modular home construction.
|