One of the many misconceptions about modular homes is that they are packaged homes that cannot be customized to suit individual preferences. Unfortunately, there are some modular home manufacturers that are extremely limited. Silverpoint Homes sells modular homes that have a wide range of options and customizations. Currently we feature a couple new design options in some of our model homes that are very popular with homeowners.
Full Tile Walk-in Shower
Just a few years ago, a huge soaker tub was the must have item to define a Master Bath. Many homeowners have now realized that the huge soaker is a seldom used dust collector that takes up a ton of bathroom real estate. Now, the huge spa shower is very popular as homeowners realize they shower much more frequently than take baths, so why not make that the shower a nice, enjoyable feature?
Our New Era and New Image homes now offer a walk-in spa shower option. They have a full floor to ceiling ceramic tile with glass mosaic accents, ceiling mounted rainfall shower head, 2 wand sprayers, and a Schluter®-Systems pan with 2x2" ceramic tile. They are so big, that you do not need a shower door.
Imagine showering in this everyday…….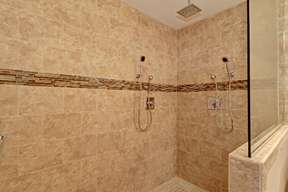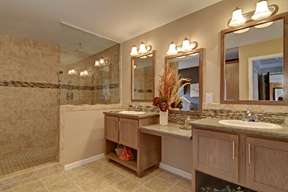 Silverpoint Homes has the walk-in shower on display in our Charleston model at our Beckley, WV Sales Center. It can be added into most of our other modular homes.
Undermount sink with a laminate top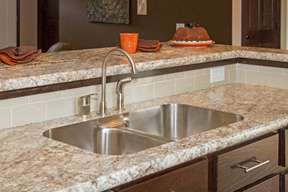 Many homeowners want the look of granite or quartz countertops but not the price. Improvements in laminate countertops have made this look possible. Laminate counters are no longer a uniform pattern. Now, patterns can mimic the look of granite or quartz. Additionally, our manufacturers now offer undermount sinks and a crescent (curved) edge profile. The undermount sinks are available in stainless steel or quartz and a variety of shapes (double, single, one large/one small). The crescent edge creates a profile that looks like bullnosed granite. Most cannot tell the difference between granite and laminate and have to ask us what material is the countertop.
Silverpoint Homes currently has the new countertops and undermount sink option on display in our Beckley, Charleston, and Osceola modular model homes at our Beckley, WV Sales Center.
Walk-up Attic
It is worth mentioning that one of the most popular options at Silverpoint Homes is our most popular option on our ranch homes. Instead of a flimsy pull-down staircase, many of our modular homes can have a full staircase to a fully decked attic. This makes for tons of storage with easy access. The attic height in many of our homes is 6'8" to where you do not even need to bend down to walk around.
Silverpoint Homes currently has the walk-up attic option on display in our Beckley model home at our Beckley, WV Sales Center.
For more information on modular homes from Silverpoint Homes, contact us.
|