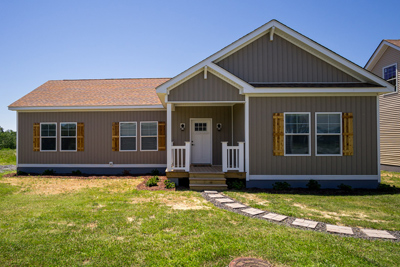 Who says estates with sprawling lawns and picturesque outdoors require a larger home? Modular construction in Greensboro, NC has found novel ways to customize homes that correspond to every home buyer's particular needs. The Logan T Ranch Style with Den Modular Home offers both simplicity and idyllic vacation living with its dual living area.
The Logan T Ranch style modular single floor plan is just under 2000 sq. ft but features two separate living areas, the front living area and the den in the rear. This set-up enables homeowners to enjoy two different views of the surrounding scenery for maximum relaxation. While the size suggests that this home is ideal for starting families, the continuous stretch of open living space directly flowing to the dining and kitchen areas make it perfect for big gatherings as well. The three bedrooms, each with its own walk-in closet, are strategically located to bring the outdoors in while enjoying a peaceful retreat.
Modular construction of this home guarantees quicker completion time, quality materials, and lower construction costs. Modular floor plans are also highly customizable to meet the blend of vacation and simple ranch style of living home buyers have been looking for. Allay the doubts, the beauty of the outdoors can be captured inside this simple home. For more details on modular home floor plans contact Silverpoint Homes.
|